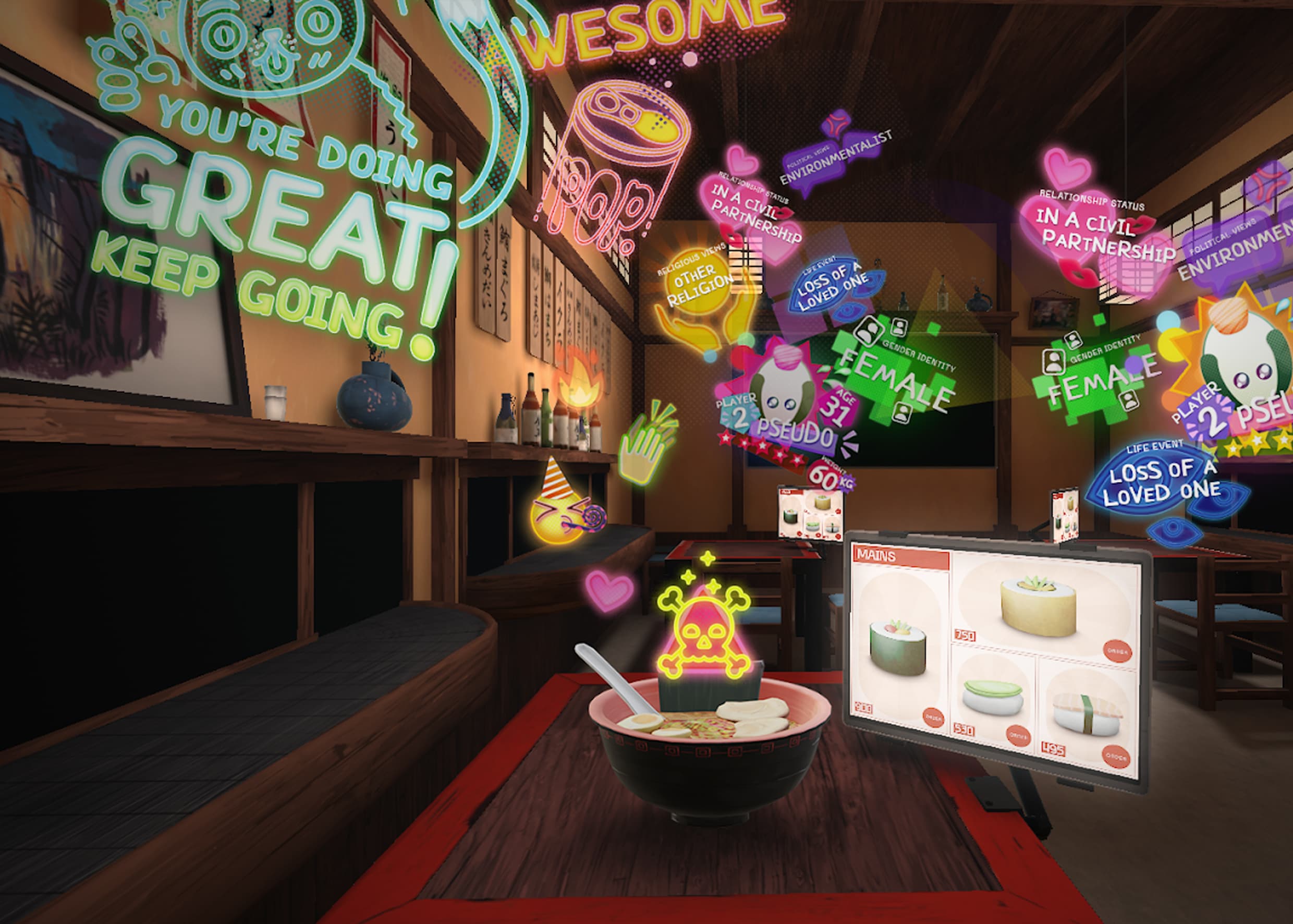 Findings from the IDFA DocLab R&D Summit 2022
Each year during the festival, the IDFA DocLab R&D Summit serves as a hub for creative exchange in the field of interactive and immersive storytelling. The Summit provides a platform for industry professionals from various sectors to connect, explore new ideas, and share their knowledge, questions, and suggestions related to the creative potential of XR (extended reality) in documentary storytelling.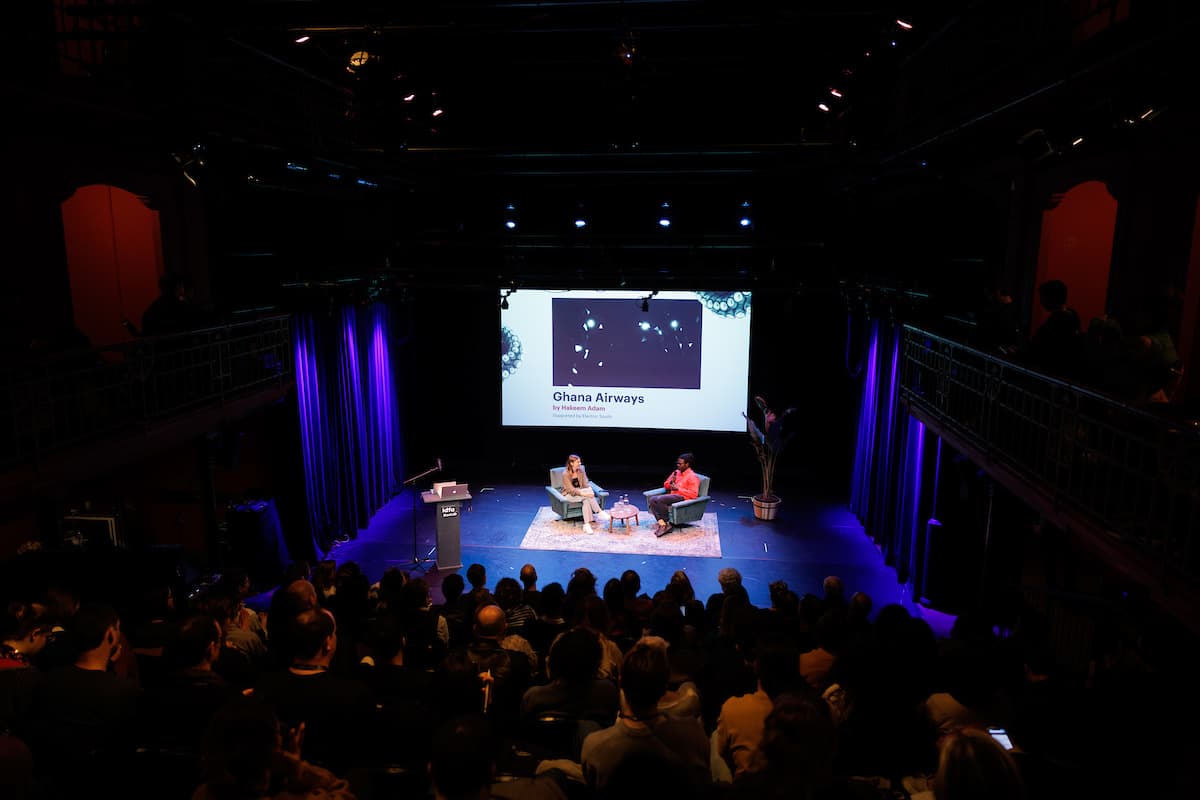 Artist Hakeem Adam in conversation with Janine Steele at the R&D Summit at Vlaams Cultuurhuis de Brakke Grond. 13 November 2022. Photo by: Jurre Rompa
Each year during the festival, the IDFA DocLab R&D Summit serves as a hub for creative exchange in the field of interactive and immersive storytelling. The Summit provides a platform for industry professionals from various sectors to connect, explore new ideas, and share their knowledge, questions, and suggestions related to the creative potential of XR (extended reality) in documentary storytelling.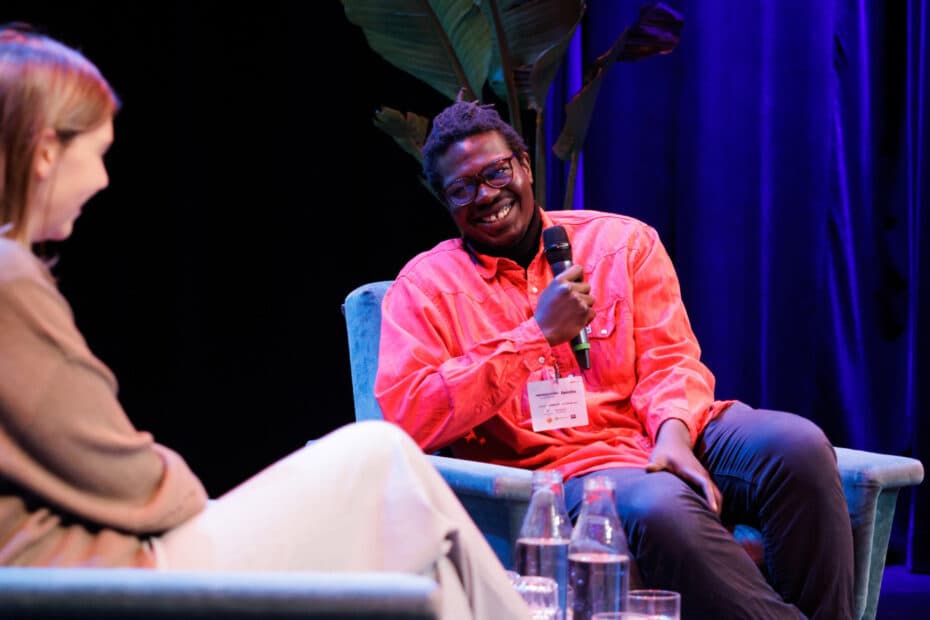 Artist Hakeem Adam in conversation with Janine Steele at the R&D Summit at Vlaams Cultuurhuis de Brakke Grond. 13 November 2022. Photos by Jurre Rompa
The 2022 edition of the IDFA DocLab R&D Summit took place on November 13 in Amsterdam at Vlaams Cultuurhuis De Brakke Grond and @droog. Attendees participated in a variety of activities such as panel discussions, presentations, and round table conversations. These sessions covered topics ranging from audience engagement, accessibility, and ethical considerations surrounding the use of VR to immersive media terminology and funding opportunities. It also discussed case studies of innovative projects that are currently in development, providing valuable insights into the process of XR productions. Additionally, there were opportunities for the attendees to network with their peers from different areas of the industry.

In this particular edition, the DocLab R&D Program reflected on the past five years and looked ahead to the next five, making it a pivotal moment to convene the interactive and immersive community for crucial collaborative conversations that might otherwise occur in isolated pockets. The outcomes from these discussions will help mold future DocLab programming and R&D endeavors.

By sharing these themes and findings, this article seeks to foster a sense of community and collaboration among industry professionals, provide insight into the event for those who were unable to attend, and promote further conversations within the industry.

In recent years, many exceptional XR documentary storytelling works have been created, but they struggle to find exhibition spaces outside of the festival circuit due to rising costs, physical demands, and audience appeal. While some year-round locations like Phi Centre, Serpentine, and Eye Filmmuseum have been instrumental in showcasing these works, more needs to be done to bridge this gap.

A variety of solutions were discussed during the Summit, including the creation of a network of exhibition spaces, co-commissioning works, and adaptable spaces for immersive installations, with a focus on audience experience and community involvement. To expand on these solutions, partnerships between festivals, museums, galleries, and other exhibition venues could be formed to allow for co-curated exhibitions, joint programming, and other collaborations.

Two examples of immersive XR installations are Plastisapiens by Miri Chekhanovich and Edith Jorisch and In Pursuit of Repetitive Beats by Darren Emerson. IDFA DocLab Nervous Systems exhibition November 2022.
Online distribution and mobile units can also help make XR works more widely available to audiences beyond the festival circuit. Additionally, subsidies, funding, education, and training opportunities can help increase the number of venues that can host XR exhibitions and make them more accessible and inclusive. The main takeaways from these discussions were the need to create a network of exhibition spaces and to co-commission works together. To achieve this, a small committee could be formed to take concrete steps towards implementing these solutions.

Co-commissioning works would allow for works to be presented in the spaces that are part of the network, with each member contributing a small amount of funding. By working together and using a combination of approaches, festivals, exhibition venues, and other stakeholders could help ensure that XR works are seen by as wide an audience as possible and have a lasting impact on the industry.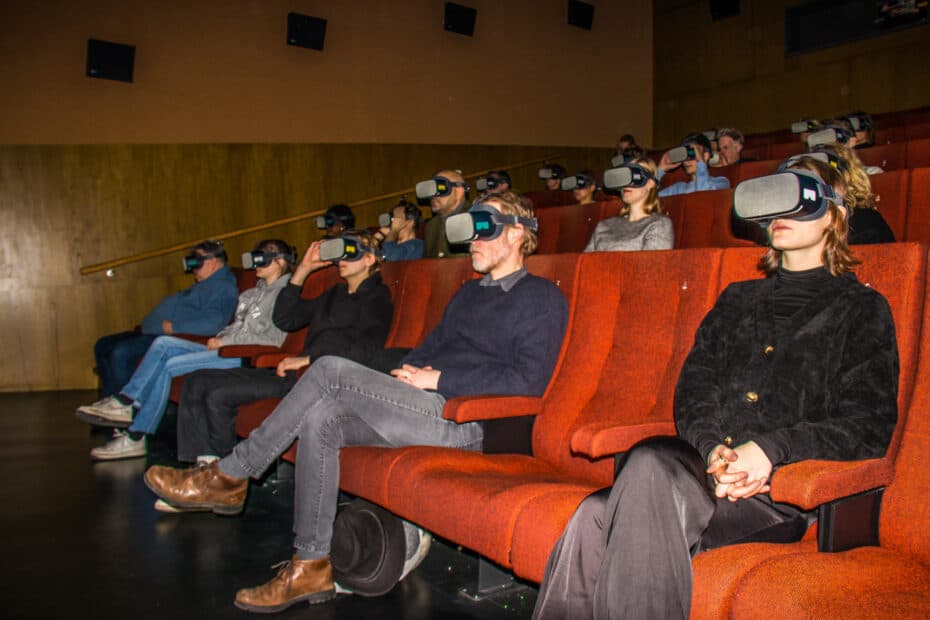 Nu:Reality, launched by Cassette and Diversion Cinema integrates top-notch VR experiences into daily programming at three Dutch movie theaters, providing a unique and more permanent home for VR screenings.
The rise of XR technology has brought about incredible opportunities for artists to explore and experiment. However, many of these artistic projects require the expertise of seasoned XR producers to bring them to life. Unfortunately, the pool of such producers is limited, leaving many new artists struggling to find the support they need.

During the R&D Summit discussions, participants talked about the challenges facing XR production, such as a lack of sustainable business models, difficulties in marketing, and the wide range of skills required by XR producers. To solve these problems, suggested solutions included research and development funds, internships, attracting producers from other industries, and mentoring. In an ideal XR production landscape there would be abundant R&D funding, less pressure to meet strict success metrics, mentoring, skills transfer from other industries, and simpler language. Additionally, participants advocated for a better ecosystem to support independent producers and production houses (such as POPKRAFT and Diversion cinema) alongside artists. By nurturing a community of skilled and experienced XR producers, we could help support the growth and development of this artistic field.

There is a need to encourage tech companies to participate in these conversations and build communities. Forming a European Network, codifying the rules of XR producing, or launching a type of IMDB for XR, for example, could expand access points for materials and strengthen the XR ecosystem.

Although XR sees itself as a global medium, the funding and production opportunities for independent artists and producers vary tremendously between regions. What can we learn from initiatives that address this disparity in the film industry, such as the IDFA Bertha Fund, and organizations that support XR, such as Electric South?
The key insights and recommendations at the Summit emphasize that supporting artistic projects requires more than just investing in the artists themselves. Infrastructure and guidance, such as stable internet and equipment, can be essential for success, as well as local advisors to mentor and collaborate with talent. Additionally, it's important to include producers and institutions in the process, and to scout talent locally and across a region while being mindful of the diaspora. The importance of supporting the connection between curators and audience in countries without a well funded art system structure was highlighted.
However, R&D Summit participants cautioned against the exploitation of social themes for funding purposes. Instead, they advocated for new funding models like residencies and knowledge transferring, which can be life-changing for artists. Play is an essential component of the creative process, and non-data-heavy storytelling innovations like radio still have their place.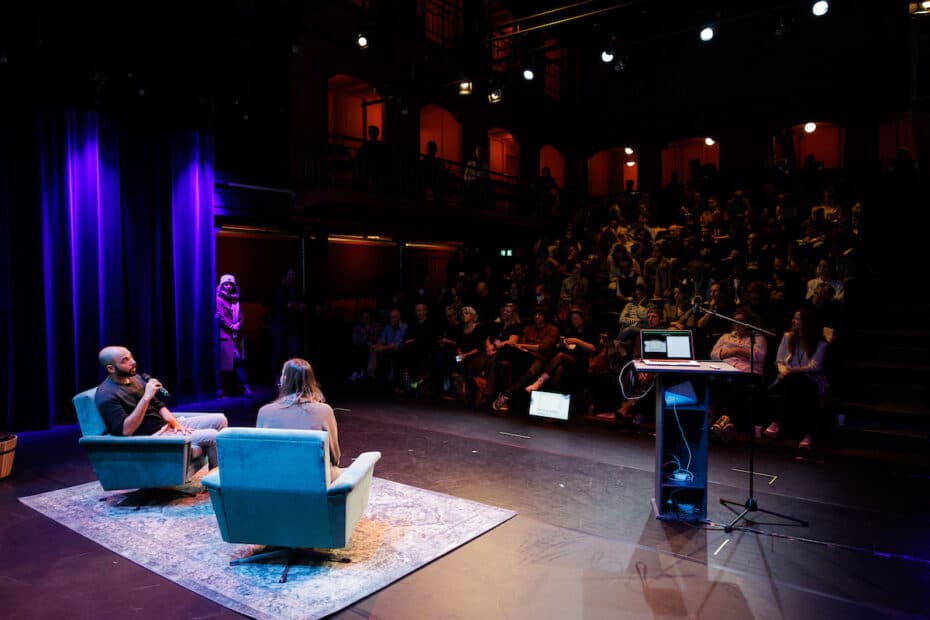 Curator Raul Balai discussing The Atlantic Archives, a project initiated by the National Archives of The Netherlands in collaboration with Balai and IDFA DocLab.
Even with a location and production team in place, new media exhibitions present unique accessibility challenges that need to be addressed to ensure that all visitors can fully engage with the exhibition. For example, with the goal of making the DocLab program enjoyable and accessible to more visitors, a dedicated wheelchair-accessible VR booth was set up in the exhibition, with designated timeslots and trained support staff on site. In addition, various support aids were offered, such as over-head earphones for people with hearing impairments and a scene-by-scene written description of the multi-sensory VR project In Pursuit of Repetitive Beats. Despite the efforts made to address accessibility challenges in new media exhibitions, there is still progress to be made in ensuring that everyone can enjoy and engage with these exhibits.
At the R&D Summit, participants discussed accessibility as a creative process, not just a matter of responsibility. They talked about co-creation and inclusive design that incorporates accessibility from the start. Retrofitting or add-on thinking was identified as ableism. Access and inclusion are important for everyone and should be curatorial concerns. Labeling, signposting, and consent were named as important ways to increase accessibility, inform audiences, and show that everyone is welcome.
Participants concluded that the best practice is always to have a line in the budget for accessibility. There is a widening opportunity space for accessibility in the world of immersive and interactive art, but first, all partners have to be on board with accessibility, including funders.
As society increasingly grapples with the consequences of climate change, more and more industries are searching for ways to reduce their carbon footprint. The XR industry is no exception, as artists and festivals seek to not just address the topic of climate change but find sustainable ways to produce, distribute, and tour XR works. Can artists and festivals reduce the carbon footprint of physical installations? What are the hidden costs of digital distribution? How sustainable is a future where everyone has their own headset at home? In this context, important case studies such as ScanLAB's FRAMERATE, Landia Egal & Amaury Laburthe's Okawari, and Tamara Shogoalu's Where There is Light offer key insights into the challenges and opportunities of sustainable XR art.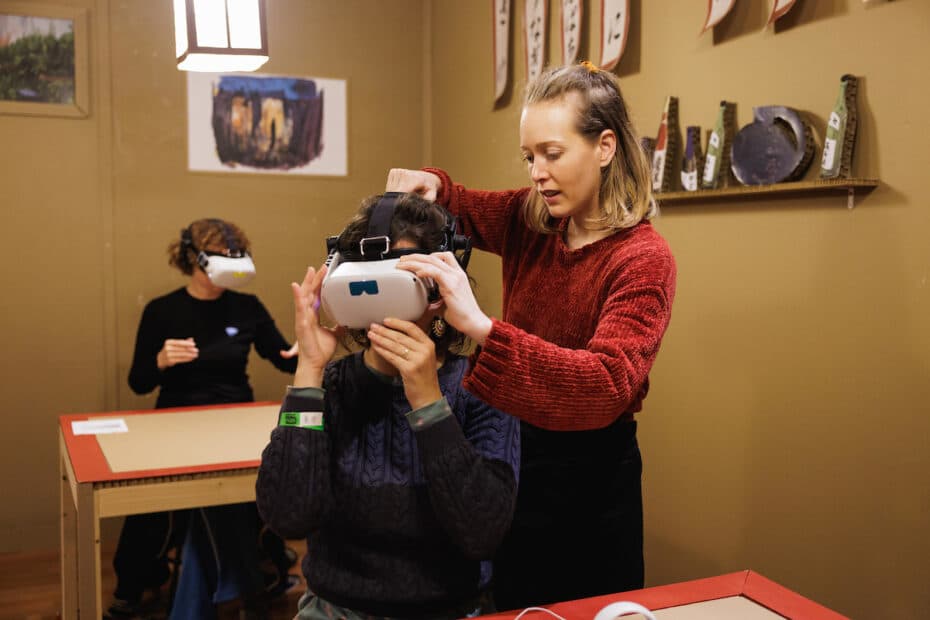 Landia Egal helping a visitor onboard the VR experience Okawari. IDFA DocLab Nervous Systems exhibition, Vlaams Cultuurhuis de Brakke Grond, November 2022. Photo by Jurre Rompa.
Festivals can reduce their carbon footprint through various means such as the use of renewable energy sources, waste reduction, and sustainable transportation options. With Okawari, Egal and Laburthe created a sustainable installation that utilizes locally sourced cardboard and upcycled elements from their previous work while asking the audience at IDFA DocLab to share how far they travelled to the festivals in order to estimate the carbon footprint of the site-specific exhibition. It's an ongoing research project co-funded by the French government. In this interview with Kent Bye, they explain some of their findings and considerations.
Digital distribution is a more sustainable option for some events, but the environmental impact of producing and disposing of devices used to access content, as well as the energy needed to maintain and run servers, are hidden costs to consider. As VR technology use continues to grow, a future where everyone has their own VR headset at home may reduce the carbon footprint of physical installations, but it is important to evaluate the full lifecycle of these technologies and their environmental impacts.
The intersection of art and science has the potential to create innovative and transformative collaborations, as exemplified by Okawari VR. However, obstacles such as intellectual property protection and language barriers can impede progress. Despite this, the power of art to convey scientific concepts and influence behaviors, coupled with advancements in technology, provide opportunities for meaningful partnerships. To fully realize the potential of these collaborations, breaking down the traditional barriers between arts and sciences and fostering an open-minded attitude towards inquiry and creativity is crucial.
To showcase the potential of new technologies in the intersection of art and science, ONX Studio and IDFA DocLab collaborated for the first time to present the ONX + DocLab MoCap Stage at the festival. This motion capture stage enables new modes of film production, immersive art, and live performance. IDFA DocLab organized an inspiring meetup aimed at Dutch performing artists with an interest in new technologies and immersive media and offered them the MoCap stage to play and experiment.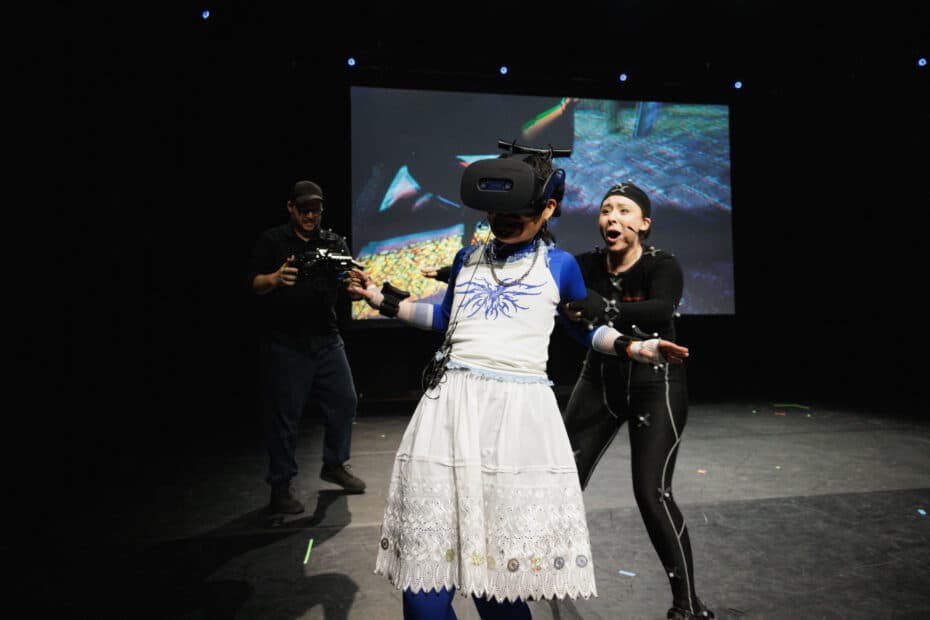 The ONX + DocLab MoCap Stage featured a number of experimental XR performances, a mastertalk by Kat Sullivan (Choreographic Interfaces Past & Future) and room for play and experimentation. IDFA DocLab Nervous Systems exhibition
Advancements in technology and media create challenges for professionals in audience-facing roles such as curators and marketers due to the lack of a standardized vocabulary to describe the elements of immersive media experiences. Interactive and immersive storytelling allows the audience to engage, interact, and (sometimes) influence the outcome of a story, but the appropriate term for the audience can be ambiguous and depend on the medium and context. The use of "audience", or the plural "audiences", is often unclear due to the individual or small group nature of many immersive storytelling projects. The language used in adjacent industries can also impact the terminology of immersive media. To establish a common vocabulary that fosters effective communication and understanding within the field, it's essential to strike a balance between respecting the diversity of language and achieving consensus on terminology.

In conclusion, as we have explored in this article, the world of interactive and immersive documentary is rapidly evolving, with new opportunities and challenges emerging at every turn. From the importance of audience engagement and accessibility to the ethical considerations surrounding the use of VR, the IDFA DocLab R&D Summit delved into a range of critical topics. One such concept that is increasingly gaining traction in this space is co-creation, which represents a crucial paradigm shift in the way we approach media-making. By providing a collaborative platform that challenges the top-down model and promotes inclusivity and diversity, co-creation allows for sustained and innovative practices of media-making, including collaborations with nonhuman systems in technology and biology. However, we must ensure that our co-creation efforts are grounded in equity and justice to achieve collective wisdom and realize a more equitable and just media landscape.
If you think this report was interesting, we wholeheartedly recommend the book Collective Wisdom: Co-Creating Media within Communities, across Disciplines and with Algorithms by Katerina Cizek and William Uricchio.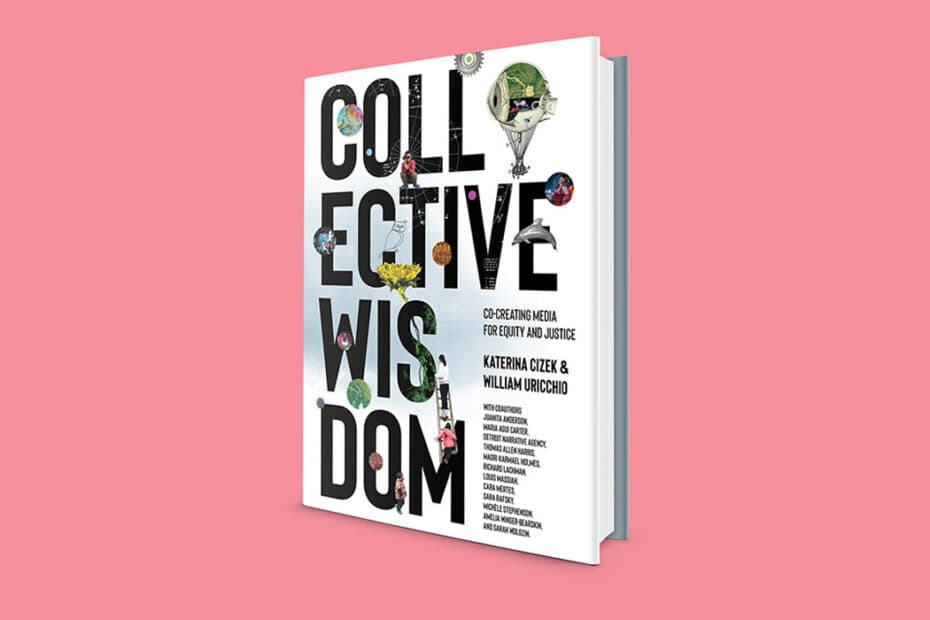 This report was based on contributions by the IDFA DocLab R&D Summit participants, including:

Anna Abrahams, Absaline Hehakaya, Ali Santana, Amaury Laburthe, Annabel Troost, Annelies Termeer, Ariza Tarazona, Astrid Kahmke, Avinash Changa, Brian Chirls, Callum Cooper, Caspar Sonnen, Charles s. Roy, Dan Tucker, Dustin Harvey, Emilia Clark, Eva Jaeger, Faye Kabali-Kagwa, Francesca Panetta, Gwendal Creurer, Hakeem Adam, Ingrid Kopp, Janine Steele, Joanna Wright, Judith Okonkwo, Julia Yudelman, Kat Cizek, Katharina Ramskogler, Landia Egal, Lisa Wiegel, Liz Rosenthal, Luke Moody, Luna Maurer, Mads Damsbo, Margaux Missika, Maria Camila, Marianne Lévy-leblond, Marie-Pier Gauthier, Mark Atkin, Melanie de Vocht, Michaela French, Nienke Huitenga, Nimrod Shanit, Paulien Dresscher, Pien Visser, Piotr Winiewicz, Raimo Lang, Raul Balai, Rita Wachera, Robin Jonsson, Roel Wouters, Sandra Rodriguez, Sarah Ellis, Shanida Scotland, Shea Elmore, Steye Hallema, Tamara Shogaolu, Tessa Ratuszynska, Toby Coffey, Ulrich Schrauth, Willemijn Cerutti, William Trossell, William Uricchio,Zeina Abi Assy, Zillah Watson.